"I always thought that "cool graphics" killed the player's fantasy, in a certain way. [...] I wanted to do something different and powerful, something that people wouldn't forget because their imagination worked a lot." - Ivan Zanotti
Imscared is a pixelated indie horror game by the Italian indie developer Ivan Zanotti. It is available in English and Italian.
You play with the standard controls. [WASD] to move, the mouse to look, [E] to interact, [ctrll] to crouch, [shift] to sprint and [esc] to leave the game. You need to explore the area around you and find keys, which will lead you to other rooms. While you are playing, files will appear in the game folder which will help you to get ahead.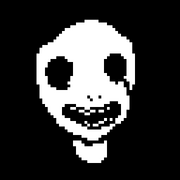 .
You find yourself locked in a room with an exit-door, and you need a heart in order to open it. You will find a key and will go deeper into the area. Later you meet White Face from who you have to escape.
Characters
Edit
The entity which follows and scares you in the game is called "White Face". It is like the name states, a skull-like white face, grinning at the beholder. The Face has no visible eyes; they seem to be just black holes.
-You can see the hanging rope (which is the icon of the game and which you will see at the end of the game) in the fourth room in the beginning.
-When you want to play the game again, you have to delete the files which appeared while playing.
Downloads
Edit
Imscared on gamejolt [English]
Imscared on moddb [English and Italian]
Imscared on indiedb [English and Italian]
1.http://gamejolt.com/games/other/imscared-a-pixelated-nightmare/10058/
2.http://gamejolt.com/profile/ivan-zanotti/16513/