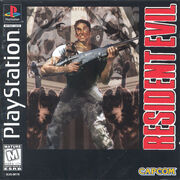 Resident Evil is a 1996 survival horror game developed by Capcom and created by Shinji Mikami. It is largely responsible for the creating and popularizing the term "survival horror", and is responsible for laying out most of the groundwork of the genre.
On the night of July 26, 1998 Alpha Team is flying around the Arklay Mansion looking for the derelict remains of Bravo Team's helicopter.
Being a survival horror game, ammo is limited.